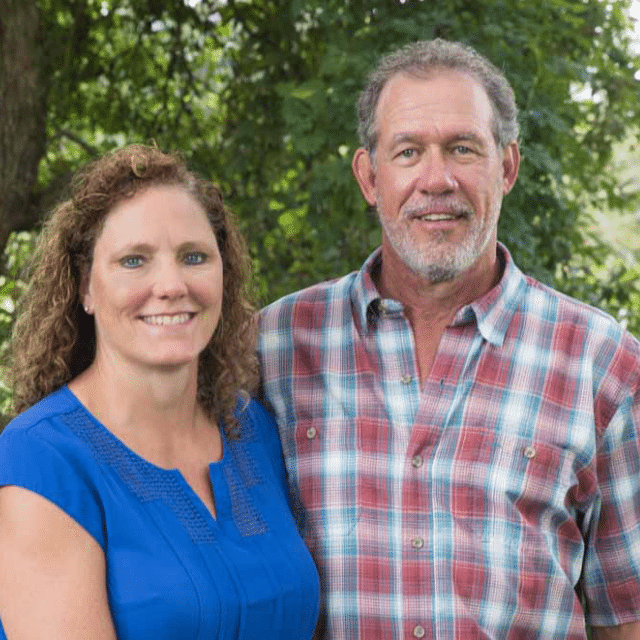 Read More
Dr Elizabeth Morgan is a Louisiana native. Although she spent much of her young life moving with her family, she has lived the majority of her adult years in the Greater Baton Rouge area. She graduated from the Louisiana State University School of Veterinary Medicine in 1996 and soon after moved to West Feliciana Parish where she has practiced veterinary medicine ever since. During that time she has established and grown the Audubon Veterinary Hospital.
Dr. Morgan enjoys treating companion animals and equine patients. She loves getting to know the pet and the client alike. Owning a practice in a smaller community has given her the opportunity to develop lasting relationships with her clients as well as their pets. Her sons have grown up in West Feliciana so Dr. Morgan has also gotten to spend time with her clients not only at the office but also in school auditoriums, on ball park bleachers, and at many other social events watching their children grow together.
Dr Morgan loves spending her off time with her husband, Bill, running, biking, swimming, and strength training for competitive road races and triathlons, or relaxing and trail riding their horses through national forests enjoying fresh air and soaking up nature.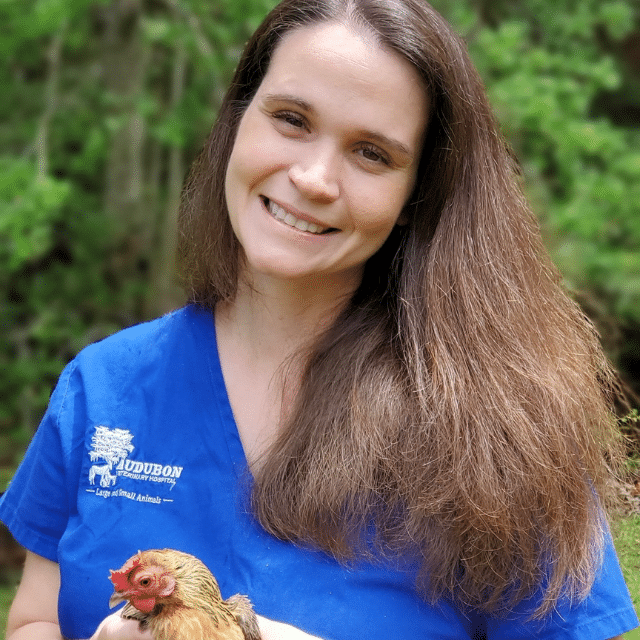 Read More
Dr. Emily Carlson is originally from Slidell, Louisiana. Her interest in veterinary medicine started early with her active involvement in 4-H showing chickens. In high school, she began working summers at a local veterinary clinic as well as shadowing her older brother when he graduated from veterinary school. Dr. Carlson went on to earn a Bachelor of Science in Poultry Science at Louisiana State University prior to entering veterinary school.
While in school, Dr. Carlson worked for both the Farm Animal Medicine department and the Poultry Science department fostering her special interest in small ruminants and poultry.  She graduated from LSU School of Veterinary Medicine in 2013 and started working at Audubon Veterinary Hospital.
Dr. Carlson currently resides in Baton Rouge where she enjoys spending time with her husband, daughter, two sons and chickens. In any spare time she has, she likes to garden, slowly renovate her old house, bike, and bake.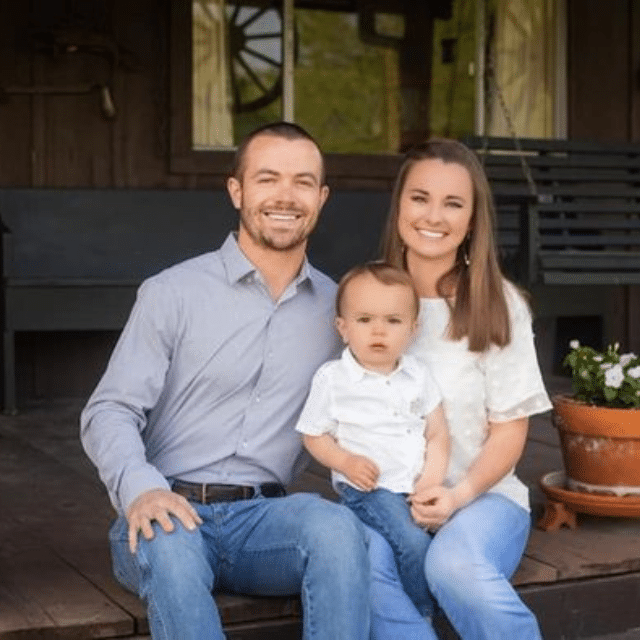 Read More
Dr. Annie Bickham Graves is a native of Zachary, LA. Her love for animals, and especially horses, started at an early age, and although it sounds cliche, she always knew she wanted to be a veterinarian!
Dr. Graves obtained a BS from LSU in Animal Science and Technology in 2014 and then graduated from LSU's School of Veterinary Medicine in 2021. In her clinical year of veterinary school, Dr. Graves tracked mixed animal medicine with an emphasis in equine medicine. She externed and completed her veterinary preceptorship at Audubon Veterinary Hospital and then accepted a job with the hospital soon after graduating.
Dr. Graves is very excited to expand the equine side of the practice while continuing to see small and farm animals. In her free time, Dr. Graves enjoys spending time on her family farm with her husband and son and caring for all their creatures including: horses, cows, chickens, dogs, and cat. She also enjoys riding her horses, hunting and fishing. Some fun facts about Dr. Graves: Before being accepted into veterinary school she completed EMT school and was a tour guide at one of Louisiana's most haunted homes – The Myrtles Plantation!
Pico is our beloved cat here at Audubon Veterinary Hospital. Pico was born April 26, 2009 and he is a  Domestic Long Hair grey tabby. Clients can see him lounging around the office and being precious.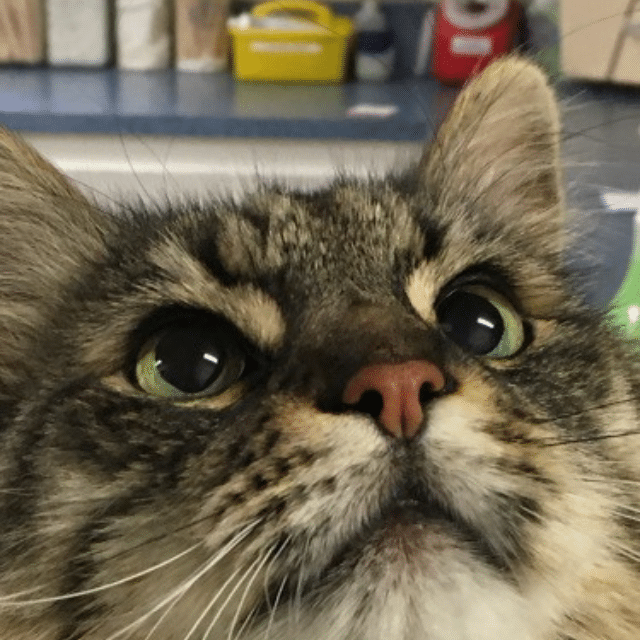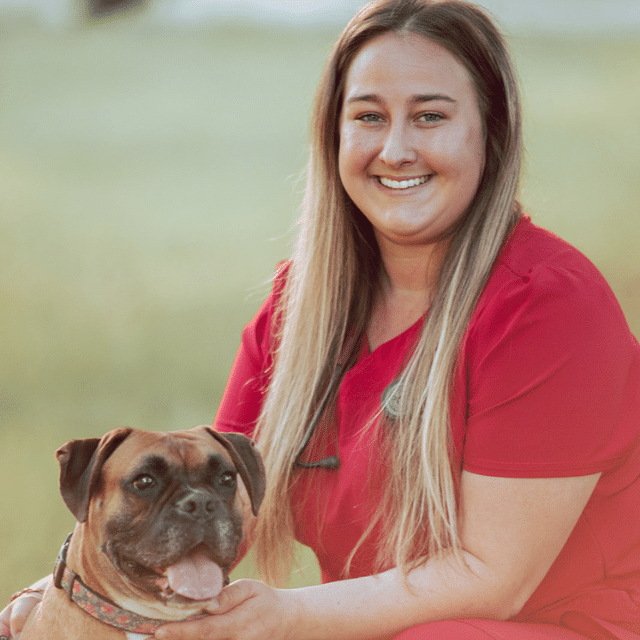 Read More
Keely graduated from Mississippi State University in 2019 after completing her bachelor's degree in Veterinary Medical Technology. After graduation, Keely took her Veterinary Technician National
Examination to become a Registered Veterinary Technician and joined Audubon Veterinary Hospital. Keely serves as our head technician and loves working at Audubon because of that "home feeling" in a small-town community. Her career choice stems from her lifelong love for animals and caring for her boxer, Max, who holds a special place in her heart. Keely aspires to earn her Registered Veterinary Specialist Certification to continue learning and growing in her career caring for animals. When not working, Keely loves hanging out with her two dogs, Bella and Khloe, and her two cats, Eloise and Betty.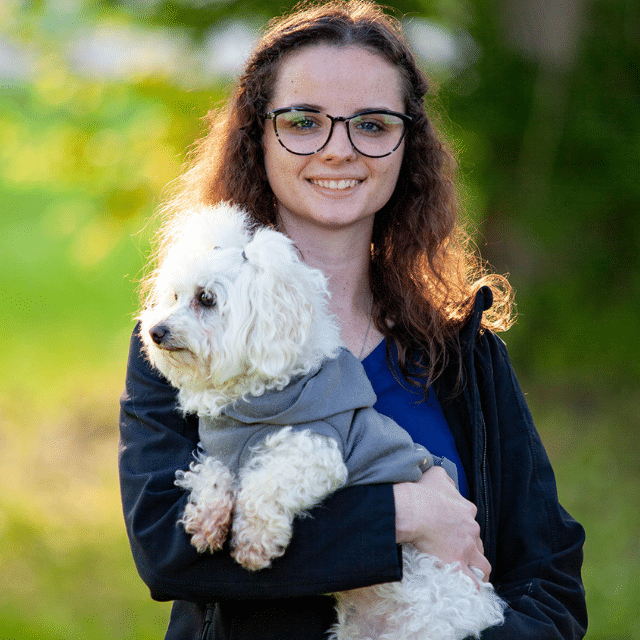 Sage
Veterinary Assistant
Read More
Sage joined Audubon Veterinary Hospital in 2019 as a kennel attendant but took the first opportunity when offered to learn to be a technician. As a person who was raised in the big city, Sage finds every day
in the rural medical field a learning experience and does not take that for granted. She often jokes, "I'd never see that in the city." She has always loved and supported all species of animals from exotics to pocket pets and farm animals. Sage has her own little zoo which includes 2 large dogs, 1 small dog, a rat
and a cat.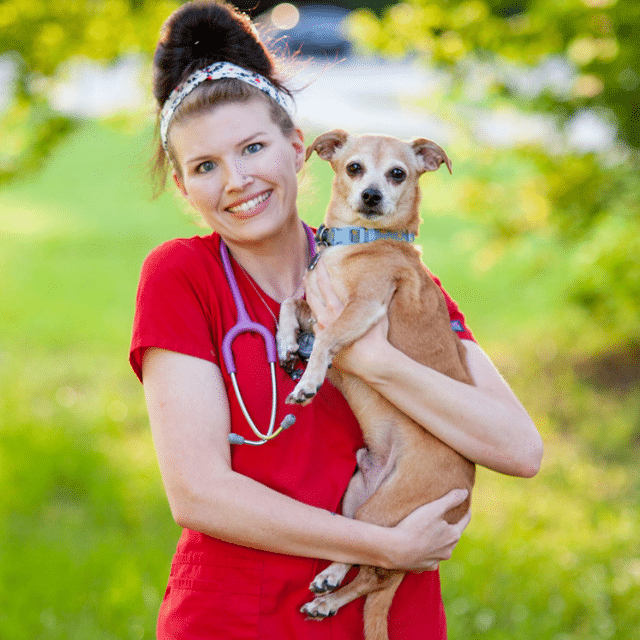 Kirsten
Veterinary Assistant
Read More
Kirsten started at Audubon Veterinary Hospital in November of 2021. She has been working with animals since 2017. When not working at AVH, Kirsten spends time with her 4 dogs, 4 cats, 2 children and her husband. She enjoys the family environment of AVH and her ability to share her compassion for animals with like minded people. She is currently in school to become a licensed veterinary technician. Kirsten could not picture herself in any other career path.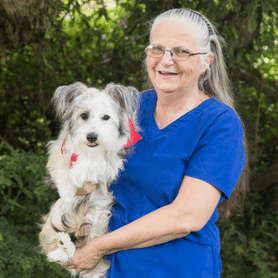 Stephany
Technician Assistant
Read More
Stephany has been at Audubon Veterinary Hospital for eight years.  She previously worked at a Veterinary Clinic in Eldorado, Arkansas and joined us when she moved to St Francisville.   Stephany works doing whatever she can to care for our furry patients from taking weights and temps, bathing them, or simply giving them lots of cuddles and kisses. Stephany has three dogs of her own; Amber Moon, Curley and LucyBelle. She believes puppy kisses are the best medicine for anyone having a bad day.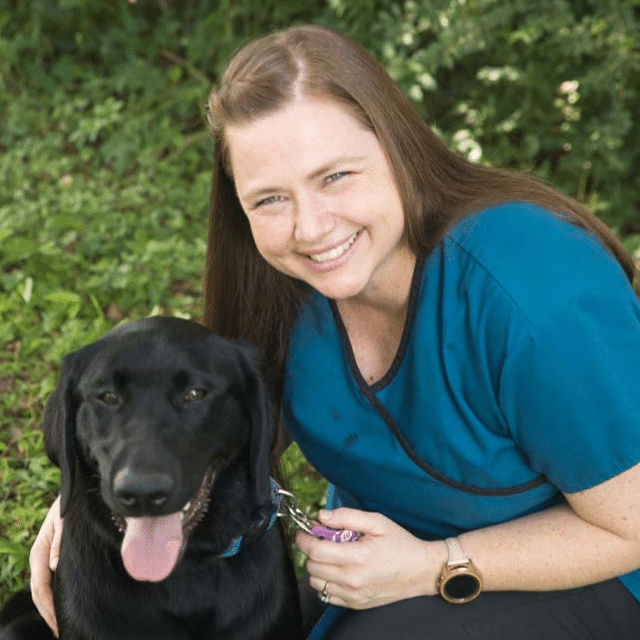 Jennifer
Receptionist/CSR
Read More
Jennifer started at Audubon Veterinary Hospital in May 2022 but is a returning member of our team. She first worked at this clinic 10 years ago and is very glad to be back in the field of Veterinary Medicine at AVH.  Jennifer is the first face you will see when walking into the doors of Audubon Veterinary Hospital. She takes immense pride in performing her duties every day with a smile and looks forward to seeing our clients and patients. Jennifer has always loved animals with 2 dogs of her own as well as 2 cats, many chickens and other livestock. She has passed on her passion for animals to her 2 children who are members of 4-H and the Livestock Club. When she is not at AVH, Jennifer enjoys spending time with her husband of 18 years, Fishing, Gardening and working on projects at home.  "I absolutely love interacting with clients and I love Veterinary Medicine. I am blessed to be able to do both".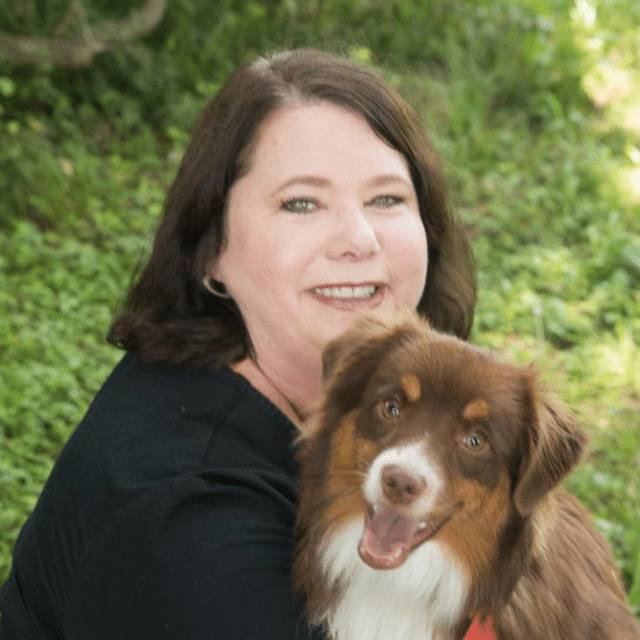 Read More
Christine graduated from LSU in 1994 and spent many years in the animal industry before joining Audubon Veterinary Hospital in 2008. Christine has worn many different hats at AVH and is currently our Office Manager.  She is responsible for organization, implementing policies and procedures as well as monitoring to ensure those policies are being properly implemented. Christine is the reason the office works in a timely and efficient manner which is no small undertaking.  Christine and her husband Shannon have been married for 26 years and have 2 daughters, Madison, 20, Evelyn 11, 4 dogs, 2 cats, 2 horses, 1 rabbit and chickens. In her free time she enjoys spending time with her family, gardening and watching her children participate in livestock/4-H/equine activities.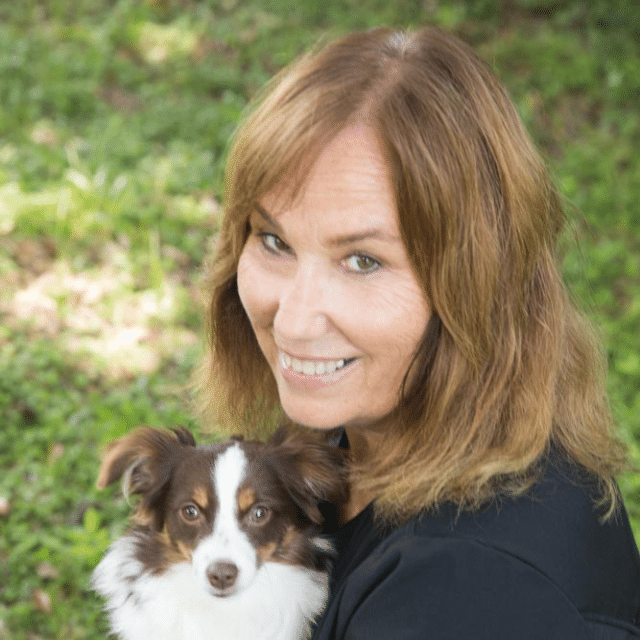 Read More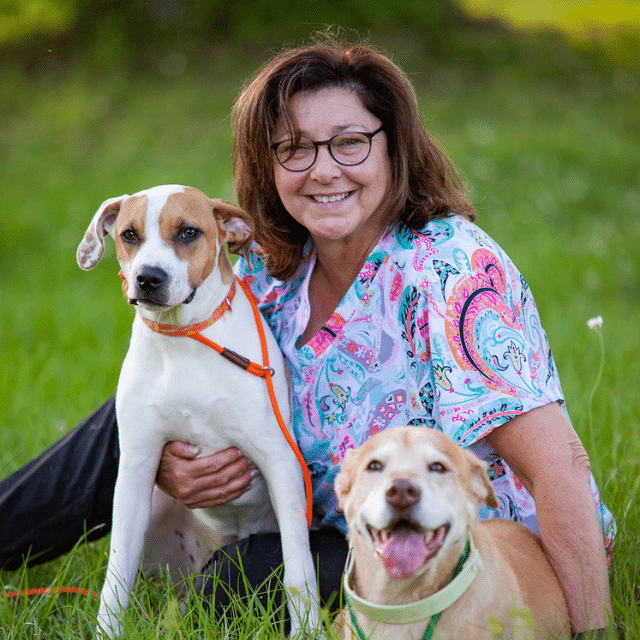 Andrea
Kennel / Tech Assistant
Read More
Andrea is a kennel attendant as well as a Tech Assistant at Audubon Veterinary Hospital. She has been working with animals of all species for 20+ years and ran her own pet sitting business in Texas. Andrea now lives in New Roads, Louisiana with 2 dogs, 1 Axoloti ( Mexican salamander), and numerous fish. She has a passion for helping animals and a way with people. Andrea keeps humor going at AVH and has made it her personal mission to make both pets and pet parents smile.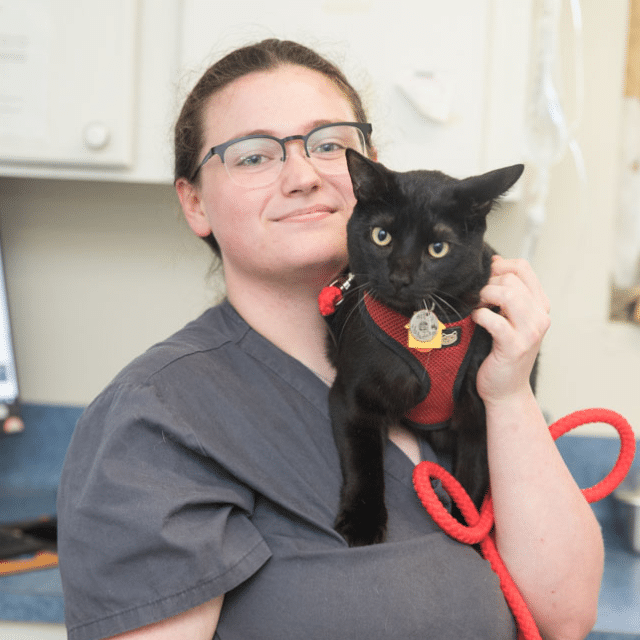 Lillie
Kennel / Tech Assistant
Read More
Lilly has been with Audubon Veterinary Hospital since 2021.  She attends Veterinary Technician school at Penn Foster University and plans on graduating this year. Lilly is known for rescuing many animals that needed a loving, safe home and has many pets of her own. Her cat Kylo Ren loves to play mascot for AVH and dress for all occasions and holidays. Lilly enjoys working at Audubon Veterinary Hospital and cannot imagine a future that does not include working with or helping animals.